When adding a participant to your BASICS Feedback admin, the system now checks for duplicate records. This mechanism acts as a safeguard to make sure the participant's information is not being erroneously added again. Additionally, if the participant is being referred to BASICS (or other intervention) for a 2nd time, the system will create a 2nd separate case record under a new treatment period. This treatment period designation allows the system to recognize the cases separately and is part of the participant record (more on this below).

The figure below provides an example of the dialogue box that will appear if the participant had been referred to BASICS Feedback previously. To add the participant to the system for a 2nd incident, click on 'yes' in the bottom right corner of the dialogue box. This mechanism also provides an opportunity for referrers to make sure they are not adding the participant twice for the same incident. Review the information presented in the dialogue box before clicking 'Yes'.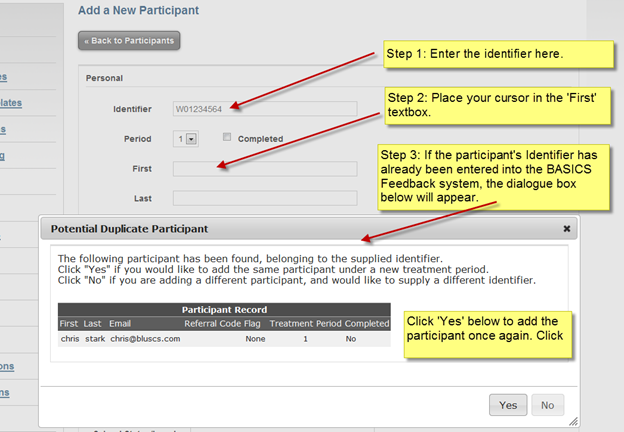 Clicking 'Yes' will result in the first and last name and email address of the student automatically populating the relevant text boxes of the BASICS Feedback 'add participant' page.

Treatment Period: If the student is referred to BASICS Feedback a 2nd time, the system will automatically designate the treatment period as '2'. If the student is referred a 3rd time, the system would automatically designate the treatment period as '3'. The treatment period designation is important as the cases need to be considered separately within the system and yet linked together. The analogy from the paper world would be that all the information from treatment period 1 for a particular student would be placed in one case folder while information from treatment period 2 would be placed in it's own case folder. Both files would be bound together, however, so that prevention providers could review both cases if needed. Treatment period can be used in logic statements as well, allowing you to route repeat offenders through different interventions.

**High-end users note that the field for Treatment Period is part of the participant record. For example, to select for treatment period 2 participants, use the expression below:

({PPT:TREATMENT_PERIOD} ==2)